It's beginning to feel like spring might make it here, yesterday the temperature got all the way up to 40 degrees. That's a huge difference from being in single digits all week.
This week my Sunday Blog Love goes to a gal that I don't think ever sits still! If she's not puttng together something with scrapbook paper, she's got her sewing machine on fire making pretty purses and flowers.
Her choice in fabrics and colors is energizing.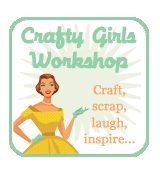 Irene
from Crafty Girls workshop has some super cute projects.
Let me show you what I mean...
She turned a everyday
rolodex
into this fun birthday reminder/calendar!
Doesn't this
flower
just make you smile?
And the notebook is so fun and pretty!
I mentioned she makes purses, isn't this the cutest coin purse?
Irene has an Etsy store and sells many of the things she makes.
Do you see what I mean? Her purses are so fun and colorful!
I hope you'll stop by Irene's blog and check out all of her great projects.
Have a great Sunday!