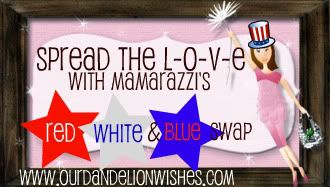 Yesterday I received my red, white & blue swap package in the mail. And I received a lot of goodies! My wonderful buddy is Juanita over at
Life, Love, & Lady Bugs
Check out all of these packages.....

Blue drinking glass....and it flashes...
White chip clips and red candles..


Love the saying on this hand towel..

Red postcard, I think I could frame it, it's that nice!
Cute postcard...
Love the flag...
Two cute bears..

And it continues, a patriotic oven mitt and red spatula..

Juanita - Thank you so much!

The swap was hosted by Mamarazzi, go on over and check out the other red,white & blue swaps...