Is everyone having a nice weekend? My weekend has been very busy - thrifting, cleaning, laundry, TV...and checking out blogs!
It's time for Sunday Blog Love and this week my pick is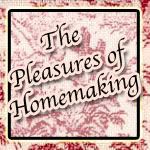 I've been following Manuela for a long time and look forward to reading her blog.
Here's some pictures that inspired me
A bird feeder made from a china cup and saucer, I (DH) made several of these for our backyard!
I love this, plates as an edging...
Bigger look at the plates as a border..
Manuela made this marker for her herbs...and shows you how to do it!
Don't ya just love the blue accents?
And these hydrangeas are not only huge but so beautiful!
Please stop by and check out her blog...