When DH isn't out walking Storm, the collar and leash adorn our dresser.
(Doesn't everyone put the dog collar and leash in the bedroom?)
Since we fixed up our bedroom recently, the dog collar and leash were not coming back. I went to Hobby Lobby trying to find one of those plaques with the hook so we could hang them up. My only requirement was that is should be as cheap as possible.
I ended up getting this one...looks really nice as is.
But I put a coat of gray paint over it.
I added some scrapbook paper and here it is....
I'm thinking I might go back and get some more and have a few different ones to change with the season...
Already hard at work and I've hung it in the enry way. Storm is all excited when he saw me picking up the leash..so it looks like it's time to take him out for a walk..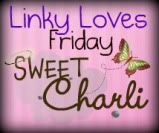 "