Thank you to all who left such nice comments yesterday. My first day at the new job went well, mostly a typical day just trying to figure out how things work. Hopefully today, I'll be able to log into the computer and start getting on track more with the programs.
Okay - onto my organizing frenzy that I did last week as part of the
"20 Days to Organise and Clean Your Home"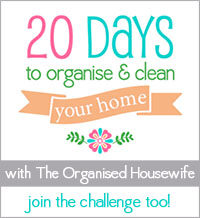 Day Two was to clean and organize your bedroom.
Because we make our bed each and every day, that part of the challenge was easy.
We change our bedding every Sunday and it's become a routine that works for us.
So I decided to step up on this challenge and tackle our closets.
Read on as to why I have two closets.
This scary sight is my closet - I keep my clothes in two closets in our house.
It's not that I have a lot of clothes but rather I get up earlier than my hubby
and get ready for work. By the time I leave for work, the hubby is getting up
and I didn't want to disturb him.
And as you can see- it was becomine very disorganized and a dumping ground!
So I pulled everything out and then started going piece by piece deciding what I
wanted to keep. Of course, there were lots of dust bunnies!
With my new job, I need to wear dress pants - the last job I could wear jeans everyday.
And since we have cats, I didn't want hair all over, I hung them up high in the closet.
I condensed the scrapbooks and put them back on the shelf.
I got rid of the two pink hanging organizers and hung up
this beige organizer that was in another closet in our house
and really purged the clothes that I had.
On the left side of the closet, on the top shelf are my tops...
long sleeve, short sleeve - all divided by color.
The main two colors I grab for are white and black which
is why they are in front..not many clothes in there.
One of my main staples for clothing is sweaters
but I don't like to hang them like I would a shirt
and they tend to get wrinkled if folded.
On the bottom shelf I have my cardigans that I always fold my sweaters in half and hang.
Now for the master bedroom closet
I forgot to take the before pictures!
In the master bedroom closet, I keep my t-shirt, hoodies, things to casual for work, shoes and scarves.
So sad that I didn't take before pictures because this is a huge improvement and reduction in clothes.
I also hang my capris on hangers to make them easy to grab and go.
The bottom rod holds my hubbies shirts - wouldn't you know it - the next day he was looking for a shirt that I threw in the trash. heheehhe - it was faded, too small and he wore it all the time!
I use the hanging shoe bins in our closet - I use to have the thing filled
with shoes for me but I drastically reduced them and now the hubby can have
his shoes there too.
To the right of the shoes, I have my carves and my Vera
Bradley bag.
I ended up taking two large bags of clothes to a consignment shop and one large bag to Goodwill.
So this ended up being a huge project that I am so glad to have done!
Day Three Challenge coming up next
The Laundry Room!
Thanks for stopping by today