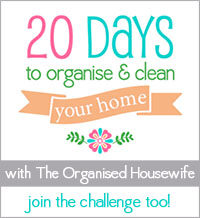 Thanks for stopping by!
I'm now on Day 5 of the 20 Days to Organise and Clean Your Home Challenge.
Today we tackle the pantry.
One of my most popular posts from last year was when I showed my
pantry makeover
.

This was an area that I had attempted many times to organize and couldn't figure out how
to get it set up so things would stay in place and also be functional.

As you can see, this was a diaster zone and one Sunday afternoon about 3:00, I decided to tackle it.
For some reason, last year - I tackled projects like this on Sunday afternoons instead of relaxing or watching some TV. (Hubby so loves that I don't do this anymore.)
I purchased some wrapping paper at Hobby Lobby and some clear contact paper at WalMart and lined all the shelves and really redid the pantry.
Best of all, it looks the same as it did then and the space really works for us.
Back to this challenge, we were to go through and check for expiration dates.
I mostly ended up tossing jello and pudding mixes so it wasn't that bad.
Let me show you how my pantry looks today.
Not much of a change, I put our extra Keurings in a canister I got at Goodwill which makes it easy to move when I need to get to the flour or sugar cansisters behind it.
Third shelf still holds our cereal, a few months ago I purchased some Lock n Lock slim cereal containers from QVC. With all the organizing I've done, the space behind the cereal containers has remained empty for the past year.
I've got two pull out trays in the pantry and this is the one that gets the most use.
It holds snacks, baking thing, boxed items and in the front left is the snacks for Macie when she comes to stay with us. (We want it to be as easy as possible for her Mom, meaning less things for her to have to pack when they come to visit!)
The bottom still holds the toaster and onions but also the pastas and dehydrated hash browns (those are so yummy!)

My latest addition to our pantry is the menu board. I use to plan the menu for the week
when the kids were still at home and then once they were gone, I stopped doing it.
I think it's a great idea and as you can see, I've got this week all figured out.
I've also got additional print outs as well as a shopping list page right behind
the menu page.
Next up - Day 6 - The Bathroom
Thanks so much for stopping by!